Ever wondered what it would be like to explore the world in 70 square feet entirely alone? On "My Solo Road", Sydney brings you along her journey of traveling in a van as a solo female. While tackling struggles such as safety, finances, and loneliness, she also shares stories about life on the road, every day experiences, and how she got here. Grab a glass of wine or a beer (she's got one) and learn how one woman escaped her 80 hour work week to live a messy, yet beautiful dream.
Episodes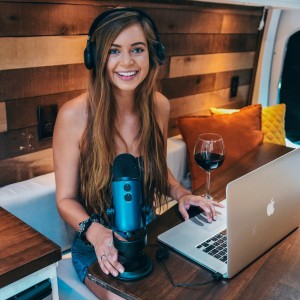 Wednesday Dec 07, 2022
Wednesday Dec 07, 2022
Can you believe it, WE'RE ENGAGED! I was completely surprised and we could not be happier! It really feels like one chapter closed and another opened and I'm romanticizing every moment of it. And since you've all been an integral part of our love story, we wanted to share everything with you as a newly engaged couple here on the podcast! From the timeline of our engagement, to how Henry picked the ring, and the weeks leading up to it, you'll hear exactly how it happened and what's next for our family. We also get into our parent's engagements and how we are feeling about our new label!
Episode notes > https://divineontheroad.com/were-engaged-storytime/
Connect with Sydney:
https://divineontheroad.com/
https://www.instagram.com/divineontheroad/
https://www.tiktok.com/@divineontheroad
https://shopdivineontheroad.com/collections/coffee (Shop "Divine On The Road" coffee!)
https://bit.ly/sydneybali2023 (Join Sydney in Bali in May!) 
Connect with Henry:

https://www.patreon.com/keepingfinn 
https://www.instagram.com/keepingfinn/