Ever wondered what it would be like to explore the world in 70 square feet entirely alone? On "My Solo Road", Sydney brings you along her journey of traveling in a van as a solo female. While tackling struggles such as safety, finances, and loneliness, she also shares stories about life on the road, every day experiences, and how she got here. Grab a glass of wine or a beer (she's got one) and learn how one woman escaped her 80 hour work week to live a messy, yet beautiful dream.
Episodes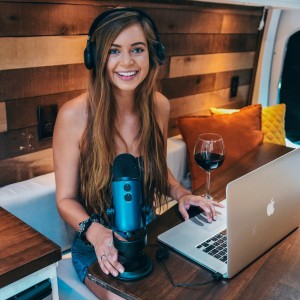 Wednesday Dec 14, 2022
Wednesday Dec 14, 2022
Are you interested in solo female van life but aren't sure that you could do it on your own? In this week's episode, I'm joined by my good friend and solo female traveler, Quin Gable! We discuss her life before she moved into her van, advice + safety tips for single women on the road, her new van build, and training your cats for the road! We also dive deep into mental health, including social media's impact on it, her mental health journey in the van, and how to deal with burnout on the road!
Episode notes > https://divineontheroad.com/van-life-burnout-quin-gable/
Connect with Sydney:
https://divineontheroad.com/
https://www.instagram.com/divineontheroad/
https://www.tiktok.com/@divineontheroad
https://shopdivineontheroad.com/collections/coffee (Shop "Divine On The Road" coffee!)
https://bit.ly/sydneybali2023 (Join Sydney in Bali in May)
Connect with Quin:

https://www.instagram.com/quingable/