Ever wondered what it would be like to explore the world in 70 square feet entirely alone? On "My Solo Road", Sydney brings you along her journey of traveling in a van as a solo female. While tackling struggles such as safety, finances, and loneliness, she also shares stories about life on the road, every day experiences, and how she got here. Grab a glass of wine or a beer (she's got one) and learn how one woman escaped her 80 hour work week to live a messy, yet beautiful dream.
Episodes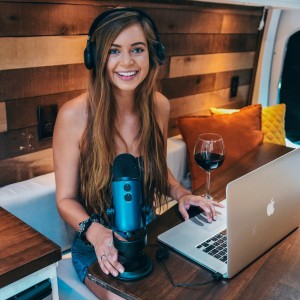 Wednesday Feb 01, 2023
Wednesday Feb 01, 2023
Today we are joined by one of the most positive and uplifting couples I know, Sam & Kelly! They have been such great friends over the past few years and I can't wait for you to hear all about their journey from being a couple in high school to living in a van with their dog sunny! We get into how van life has impacted their long-term relationship, prioritizing hobbies for joy (whether you're in a van or not), and what they are manifesting for the future. They are two people that you can't help but feel good around and it definitely translates in this episode!
Episode notes > https://divineontheroad.com/van-life-partners/
Connect with Sydney:
https://divineontheroad.com/
https://www.instagram.com/divineontheroad/
https://www.tiktok.com/@divineontheroad
https://www.youtube.com/@DivineOnTheRoad
https://shopdivineontheroad.com/collections/coffee (Shop "Divine On The Road" coffee!)
https://bit.ly/sydneybali2023 (Join Sydney in Bali in May!)
Connect with Sam & Kelly:
https://www.youtube.com/@SamandKelly
https://www.instagram.com/samandkellysvan/