Ever wondered what it would be like to explore the world in 70 square feet entirely alone? On "My Solo Road", Sydney brings you along her journey of traveling in a van as a solo female. While tackling struggles such as safety, finances, and loneliness, she also shares stories about life on the road, every day experiences, and how she got here. Grab a glass of wine or a beer (she's got one) and learn how one woman escaped her 80 hour work week to live a messy, yet beautiful dream.
Episodes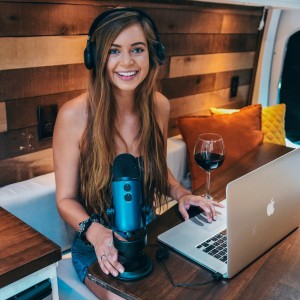 Wednesday Jan 11, 2023
Wednesday Jan 11, 2023
Today Lauren from "The Animal Pad'' is giving us a peek into her world of animal rescue! The passion that this woman has for animal rescue pours out of her, as you'll see in this episode! She shares with us some first hand stories about dog rescues in Baja, Mexico, her experience with compassion fatigue, the red flags you need to look out for if you're going to buy from a breeder or a rescue (she spills the tea on this since she just rescued 111 dogs from a breeder!), and how you can help. Animal rescue is an intense yet very rewarding operation and we shined the light on both! 
Episode notes > https://divineontheroad.com/baja-mexico-animal-rescue/Connect with The Animal Pad:
Connect with Sydney:
https://divineontheroad.com/
https://www.instagram.com/divineontheroad/
https://www.tiktok.com/@divineontheroad
https://www.youtube.com/@DivineOnTheRoad
https://shopdivineontheroad.com/collections/coffee (Shop "Divine On The Road" coffee!)
https://bit.ly/sydneybali2023 (Join Sydney in Bali in May)
Connect with The Animal Pad:

https://theanimalpad.org/
https://www.instagram.com/theanimalpad/
https://www.paypal.com/fundraiser/charity/2210452 (Donate through PayPal!)
Venmo: @theanimalpad