Ever wondered what it would be like to explore the world in 70 square feet entirely alone? On "My Solo Road", Sydney brings you along her journey of traveling in a van as a solo female. While tackling struggles such as safety, finances, and loneliness, she also shares stories about life on the road, every day experiences, and how she got here. Grab a glass of wine or a beer (she's got one) and learn how one woman escaped her 80 hour work week to live a messy, yet beautiful dream.
Episodes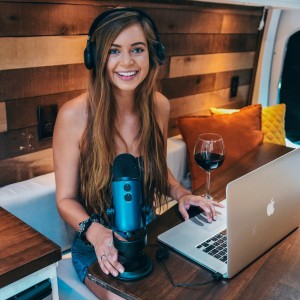 Wednesday Nov 23, 2022
Wednesday Nov 23, 2022
After a long hiatus, we're back! This is one of those "sorry I didn't text back" moments and we have a lot to catch up on. So in this solo episode, I'm getting back to oversharing all of the life updates you've been curious about from this past year. We're diving into an update on Ella, Pearl, and Finn (and our foster dog Abigail!), how mine and Henry's relationship is, my new van build, what I've been working on BTS, and of course, a mental health update. I am so grateful that you are here and we are officially back with a juicy new season full of friend interviews with different perspectives from van life to home life. So grab your wine, coffee, beer, drink of choice, and hang out with me for this update!
Episode notes > https://divineontheroad.com/van-life-podcast-2/
Connect with Sydney:
 https://divineontheroad.com/
https://www.instagram.com/divineontheroad/
https://www.tiktok.com/@divineontheroad
 https://shopdivineontheroad.com/collections/coffee (Shop "Divine On The Road" coffee!)
https://bit.ly/sydneybali2023 (Join Sydney in Bali in May!)